Cost-Effective Data Center & IT Solutions
Rent space in our Tier 3+ data center for your servers and equipment. We'll provide space, power, cooling, bandwidth, and physical security. Optionally, we can provide remote hands service, shipping/delivery management, and cable management. The goal of our colocation services in Orange County is to ensure tougher security and increased operational uptime for your hosted systems.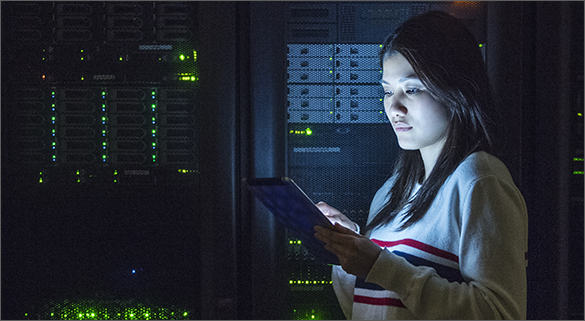 Colocation Orange County Services
Monitoring
Monitoring Tools for Customers
NetFlow Monitoring, SNMP Monitoring (Service
Desk and Portal), Application Monitoring
Facility Monitoring Systems
We monitor our data center using IT360,
Velocity, and DataTrax software
Additional Coverage
We also have NOCs in Spain (Madrid & Malaga)
for more 24x7x365 coverage
Cabinets
We provide APC Net Shelter Lockable
cabinets for hardware
Cages
A fenced enclosure provides additional
security to your cabinets
Private Suites
We can store your hardware in a walled off space and customize the area to fit your requirements
Raised Floor
Our 27″ raised floors provide an optimal
distribution path for cabling and cold air
Hot Aisle Containment
Hot air is guided upward back towards the CRAC units
Unlimited Power
We don't use watts per square foot ratios
Power Supply
Power is provided by utility companies and
distributed throughout the facility
High Availability UPS System
Redundant Liebert electrical panels distributes power
Industry Leading Cabinets
We provide APC Cabinets with two
3-Phase/208V APC PDUs
Power Delivery
Power ranging from 120V to 250V with
20Amps to over 100Amps per circuit
Redundancy
Our Three 2N Redundant UPS Systems
provides protection in outage events
Resilience
The generators are in a N+2 redundancy configuration
Network Carriers
Our carriers include AT&T, Century Link, Cogent, COX, Crown Castle/Wilcon, Level3, Spectrum/Time Warner Cable, TW Telecom, Verizon/XO, Zayo/AboveNet
Blended Bandwidth
We provide a Multi-homed BGP
blend with four carriers
ISPs On-Net
Multiple ISPs have connectivity built into our facility
Cross Connect Requirements
Ethernet and Fiber Handoffs
Additional Services
Layer 2 P2P Circuits and SIP Trunks are available
What is the difference between SMS and other Colocation Providers?
SMS Datacenter is not Carrier/Telco owned
Our team provides world-class customer service
Our colocation services in Orange County is available 24×7 with engineers on-site 365 days a year
We can provide Hybrid IT solutions
We offer a full suite of Managed Services
Over Ten (10) telecom carriers On-Net
SMS specializes in redundancy and can assist with planning and implementing disaster recovery along with business continuity
SMS specializes in customer flexible solutions that drives productivity and cost savings
We are a global company
0
Percent Environment Uptime
0
Hour Staff Availability
Some of Our Network Carriers